When it comes to your Sutherland Shire home's hot water system, making sure to perform annual gas water heater maintenance can keep your water system running hot efficiently all the time.
Failing to do so can cause an untimely and costly stop to the flow of your hot water. And no one wants that to happen to their gas water heaters especially if it happens at a busy shower time for the family.
There are some very simple steps of water heater preventive maintenance you can take once a year to make sure your gas water heater is operating properly.
Use this as a water heater maintenance checklist and tips, so you can make sure things run smoothly.
And if it's something that you don't think you can do yourself — or don't want to — then contact your best Sutherland Shire water heater maintenance company, and we'll perform any plumbing and water heater preventive maintenance, so your water is always flowing.
Use This Gas Water Heater Maintenance Checklist Once a Year
Do you know how dirt and debris will sometimes cause sediment to build up in the tap of your kitchen or bathroom faucet? Well, any water line in your Sutherland Shire home will have this common problem with excess sediment and minerals that naturally flow with the water into your home.
The same applies to the lines of your water heater. Clogs can occur when this happens, so it's best to stay on top of water heater preventive maintenance to avoid costly repairs when the system breaks down. This can potentially shorten the lifespan of your water heater and cause significant damage.
Ensure to follow these gas water heater maintenance tips to make it stay in top condition by performing yearly maintenance. It's crucial to start by locating the water heater in your home.
1. Find Shut-off Valve: You'll need to find the shut-off valve, water drain, and pressure release valve. The water system's shut-off valve and pressure release valve are each on top of the water heater. The drain is on the bottom.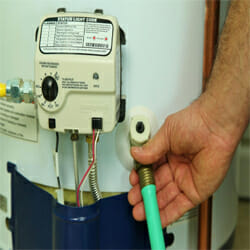 2. Turn off the Gas and the Water: Shut off the gas to the water heater. Shut down the water supply to the water heater. Make sure you have a bucket and a hose.
3. Hook up the Hose: Hook up the hose to the water drain and turn on the pressure release valve. This should take anywhere from ten to 30 minutes. Now, turn the water on to clean out any dirt and debris that has built up in the system. Five or six gallons should do the trick.
4. Refill the Tank: Turn off the water drain and shut off the pressure release valve. Turn the water on to fill the water tank back up. Once it's full, you can turn the gas back on and relight the pilot.
And that's it. Obviously, if you are comfortable with these instructions, this isn't too difficult. But if you're not, call a professional.
Read More: How Long Does a Hot Water System Last
Call a Sutherland Shire Water Heater Maintenance Company if in Doubt.
You may not have the time or simply like most people, these types of jobs make you feel uncomfortable.
If you're unsure about how to maintain your hot water heater or simply don't have the time, our Sutherland Shire water heater maintenance company can help. Our trained and experienced professionals can perform yearly water heater preventive maintenance checklists, as well as any other plumbing concerns you may have.
At Damien McEvoy, we offer a range of hot water heater maintenance and repair services to ensure that your hot water system is functioning efficiently and reliably. We understand the importance of having hot water in your home or business and are committed to providing our clients with high-quality workmanship and exceptional customer service.
Whether you need routine maintenance, a repair, or a replacement, our team can help. We work with all makes and models of hot water heaters and can provide you with a range of options to fit your budget.
If you're experiencing a hot water emergency, don't hesitate to call us. We offer 24/7 emergency services, so you can count on us to be there when you need us.
In addition to hot water heater maintenance and repair services, we also offer a range of other residential plumbing services, including leak detection, drain cleaning, and toilet repairs. Whatever your plumbing needs, we have the expertise and resources to get the job done right.
So if you need hot water heater maintenance or repair services in the Sutherland Shire area, give us a call at (02) 8599 4593 for a free quote. We'll work with you to find the best solution for your hot water needs and ensure that you're never left without hot water.