When you think of plumbing, is there really a difference between residential plumbing and commercial plumbing contractors? I mean, they work on clogs and pipes, right?
Well, yes. And no.
It's the scale of the job that spotlights the differences, and if you are in the need of commercial plumbing, you don't want to have your "plumbing friend" come over to look at your pipes.
No, if you have a business in Sutherland Shire, you want to hire commercial plumbing contractors, because there are some major differences from a clogged drain in your house, which can cause a small flood in your dunny, to a clogged toilet in the loo at your office, which can flood an entire floor, leading to halted production and a ton of money to repair.
And the need for commercial plumbing in Sutherland Shire is increasing because growth in the region has been expanding over the last decade, as there are over 20,000 businesses registered in the area.
Statistics show a younger workforce, particularly in the professional, technical, and scientific services, as well as a strong retail sector, which means that commercial plumbing contractors will be in great demand.
Commercial Plumbing vs Residential Plumbing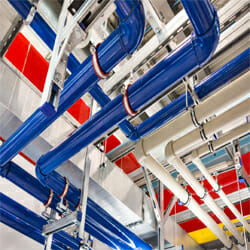 And that's great news for commercial plumbing contractors, as with any industry growth, the need for commercial plumbing services will remain strong.
So with that in mind, let's explore those differences, as knowing them will lead you to make the right decision when deciding to hire commercial plumbing contractors for your building projects or when you need their services once your building is up and running.
Importance of Commercial Plumbing Contractors at the Beginning of a Construction Project
One thing that is sometimes overlooked about commercial plumbing contractors is the importance of having one on the spot at the beginning of a construction project.
Having the knowledge to design and implement plumbing designs is an important part of any building job. And commercial plumbing contractors are up-to-date with the latest building codes in Sutherland Shire, so you won't have to worry.
Differences in Size and Variety of Jobs between Commercial Plumbing and Residential Plumbing
Another difference between commercial plumbing services and residential plumbing is the size of the job, the use of multiple floors (gravity will affect water pressure), and the variety of problems (particularly codes, which can be different for commercial contractors).
Specialized Plumbing Systems Required for Commercial Properties
In addition to the differences mentioned above, commercial plumbing services also involve a much wider variety of plumbing fixtures and plumbing systems that are used in larger buildings. These include complex and specialized systems such as fire suppression systems, industrial plumbing systems, and irrigation systems.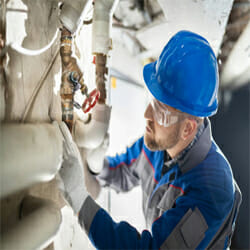 Fire suppression systems, for example, are critical in commercial buildings and require specialized knowledge and training to install, maintain, and repair. Commercial plumbers will have the expertise to install and maintain these systems to ensure they are up to code and fully functional in the event of an emergency.
Industrial plumbing systems are another specialized area that require commercial plumbers. These systems are used in manufacturing and processing plants and require specialized knowledge and experience to ensure they are installed and maintained properly. Industrial plumbing systems often involve complex equipment, such as boilers, pumps, and valves, which require specialized training to operate and maintain.
Irrigation systems are also commonly used in commercial properties, particularly those with large outdoor spaces. These systems require regular plumbing maintenance and repair to ensure they are functioning properly and not wasting water. Commercial plumbers can install and maintain irrigation systems to help businesses save on water bills on their hot water system and conserve water resources.
Your Sutherland Shire commercial plumbing contractors can provide all of these types of plumbing services and plumbing solutions, giving you peace of mind.
Related post: All You Need to Know About Industrial Plumbing
Why You Should Have Commercial Plumbing Contractors on the Ready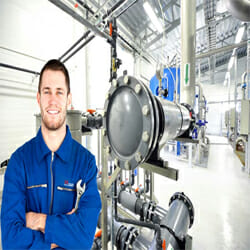 Now that your building is complete, you'll need to have plumbers  who perform commercial plumbing services on speed dial for when things go wrong.
Because responsiveness is critical to running a building with plumbing running all day and night. Sure, residential plumbers will prioritize your call in an emergency, but the response time can vary depending on the problem and the number of calls they have ahead of yours.
Plumbers who are expert in doing commercial plumbing services understand that response time for their plumbing services are different for commercial buildings. A small plumbing problem can lead to a big one which can shut down productivity in the blink of an eye. So the stakes are higher as are the dollar signs if the problem isn't dealt with immediately.
Something else to consider is in today's modern world, being friendly to the environment is no longer just a personal choice.
Countries throughout the world are joining the ever-growing eco-friendly movement, and with Australia being one of the most eco-friendly countries on the planet (13th in one Yale University study), businesses are making sure they can advertise that they are green companies.
So commercial plumbing contractors are joining the fray, and designing and using products that are eco-friendly.
In summation, make sure you know the differences between residential and commercial plumbing services and do your homework when searching for the right company for your commercial plumbing needs in the Shire.
Call Damien McEvoy Plumbing at (02) 8599 4593 for any plumbing inquiries!