Gas leaks are uncommon but do happen nonetheless. Left unattended, these leaks can lead to serious injuries or even death in some extreme cases. The good news, however, is that all gas leak accidents are preventable through regular gas leak detection and maintenance.
In this article, we'll discuss the causes of natural gas leaks, the consequences if left unattended, and how Damien McEvoy Plumbing can help prevent, as well as repair damages from such circumstances.
What Causes a Gas Leak?
Gas leaks may seem trivial but can trigger major disasters. It is often a result of poorly-maintained gas appliances, such as cookers and boilers where gas can escape from broken hoses in your home. Be careful of secondhand appliances, especially when you're renting a house.
What Will Happen if You Ignore a Gas Leak and How Do You Stop It?
Inhaling too much carbon monoxide gas may result in breathing difficulties and carbon monoxide poisoning. Striking a match in a place where there is a leak may set off an explosion or start a major fire. The best way to stop gas leaks from happening is to prevent them. As a precautionary measure, always check appliances for wear and tear and gas smell, and also ensure they're being serviced regularly. Gadgets like carbon monoxide alarms help in gas leak detection, and they're readily available in the market. Our qualified gas fitting professionals can help you install these alarms.
What to Do if You Suspect a Gas Leak in the House
Gas fuels most boilers and central heating systems, so there may be occasional leaks. Follow Damien McEvoy Plumbing's safety guidelines if you smell gas in your home.
Be aware of the odor. Your nose can recognize the unpleasant scent that suppliers add to gas. If it does, you may have a leak. Be aware of gas smells coming from your water heater or boiler. There are ways to spot a gas leak if you have a blocked nose. Your body will give out signals that you have inhaled too much carbon monoxide. You may suffer from nausea, headaches, fatigue, or breathing difficulties.
Also, your household appliances may show signs that there is a leak. Gas burners will give off crisp, blue flames instead of orange ones. Watch out for soot that collects around your appliances. There may be a foul smell coming from your water heater as well. If there is a leak, there may be too much condensation on your windows.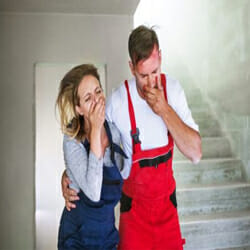 Do not spark off the gas
Do not start flames on the stove, or operate electrical switches. Make sure that your cooker is off, and never light a cigarette in such circumstances.
Increase ventilation
Ventilation is critical in the event of a leak. Open the windows and all outside doors at once to allow the gas to dissipate quickly.
Turn off the gas meter
Make sure that your gas meter is off. If you are not sure where it is, call your gas company immediately.
Evacuate
If the smell of gas is pungent, gather everyone and leave your home immediately. Alert immediate neighbours who may be affected by the leak.
Call the Professionals
Once you have completed the safety measures, call a professional gas fitter. Your home may not be safe enough for you to attempt to repair the leak yourself. Damien McEvoy Plumbing provides a service of immediate help in the Sutherland Shire.
6 Steps on How to Fix Gas Leaks
Gas leaks pose grave dangers, and it is wise not to fix them yourself. Gas fitting and repair procedures may vary, but here are possible fixes that gas leak plumbers and gas fitters at Damien McEvoy Plumbing are likely to do.
1. Turn off the gas
Since it is hazardous to work with gas on, a gas plumber will turn off your meter to make safe repairs possible.
2. Remove the covers
The next part of the fixing and re-fitting process is to remove the covers from your gas lines to expose the pipes. These are mostly plastic. If you are nearby, wear a mask to prevent gas inhalation.
3. Detach the gas line
Leaks occur when there is high pressure in a gas pipe. Our gas fitters will separate the low-pressure gas line from the regulator. You will then be able to use the high-pressure line.
4. Remove Gas Residue
The gas fitters will eliminate the residue inside the pipe. If necessary, they will break the line fittings in the high-pressure line.
5. Scuffing
The gas plumber will then scuff the surface of the pipe, ready for re-fitting. They will clean it with acetone.
6. Refitting the gas line
Our plumbers will then reattach the gas line. They will fit it loosely in case there are new leak points, and ensure that they seal it well. These professionals know how to do so at the correct angle. They will make sure that the high and low-pressure gas lines do not interfere with each other.
Who Can Fix a Gas Leak?
With years of experience as a gas fitting professional and gas leak plumber in the industry, Damien McEvoy Plumbing fully understands your basic plumbing and gas fitting needs. We rank among one of the premier plumbing companies in the Sutherland Shire, our team is available 24/7 at (02) 8599 4593.
Our staff consists of well-trained, professional gas fitters. Each of them can manage exposed gas pipes and leaks with ease. A gas leak is an emergency. Our gas plumbers will respond promptly to your call, and arrive at your location in the Sutherland Shire in a matter of minutes. We emphasize safety and are proud of our incident-free record. Our top-of-the-line equipment and protocols will protect everyone exposed to leaks.
Do not ignore a potentially disastrous gas leak, or attempt to repair it yourself. Navigate to our Contact Page, so we can talk about the fix in a quick and safe manner. The good news is that you can put preventive measures in place. The expert gas fitters at Damien McEvoy Plumbing are on call to manage the task for you.